Expert Home

Dishwasher Service
Our technicians are known for fixing dishwasher issues that others can't. Why? Because we're committed to ongoing training and our customers always come first! That means no funny business, just transparent and efficient appliance repair services when you need them most! We can fix your dishwasher no matter the brand, make or model.
As a family owned, local business, we've been serving our community for over 20 years. As one of Toronto's most reliable and trusted appliance repair specialists, we stand behind our impeccable reputation. Our customers know us as a fully transparent appliance repair company that gets the job done.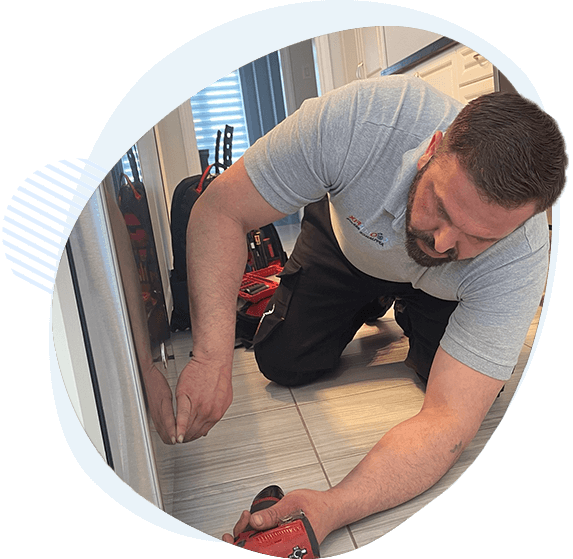 Dishwasher Repair Service

You Can Trust

Our Warranty
Trust is what we're all about. Our work is backed by our warranty for your peace of mind!

Excellent Reputation
Our work speaks for itself, and we have over 20 years of experience to back it all up.

Reliable Service
Our industry experts can repair even the most complicated appliance issues.

Great Prices
An appliance repair shouldn't cost the same as a new appliance. We'll help you save more!
What Our Clients Say

About Us
Eugene

Fast and good service, answered fast and fix my appliance problems the same day, Tom had the part in his truck and knew what was the issue after less then 2 min, price was fair, will use again!
Jeff

Had a problem with my dryer, turned out to be a destroyed pully and belt. Cooperfix was fast, responsive and completed the repair as promised.
Bassam

Best of the best. Service is versatile quick and very affordable. They do amazing work, and extremely reliable and helpful. I cannot recommend them enough.
Dishwasher Brands

We Repair
Our

Service Areas
CooperFIx Appliance Repair offers reliable, same-day appliance repair services in the GTA. We can fix all your residential appliances and our customer support center is open 7 days a week to assist you in booking a service call.
Dishwasher Repair - North
Common Home

Dishwasher Issues
Dishwasher doesn't wash properly

Dishwasher not drying
Dishwasher not draining

Dishwasher cycle lasts too long

Dishwasher won't turn on
Dishwasher doesn't work
Dishwasher leaking
Dishwasher won't stop running
Dishwasher lights blinking
Dishwasher won't close
Dishwasher doesn't fill
Dishwasher soap dispenser broken
Dishwasher doesn't fill
Dishwasher doesn't dry dishes
Dishwasher showing error codes
Dishwasher not receiving water
Dishwasher leaks from motor
Dishwasher leaks from the bottom
Dishwasher Maintenance

Tips
Pump motor
Control panel
Water inlet valve
Filter
Door hinge
Door seal
Heating element
Power supply board
Overfill float switch
Timer
Drain pump
Thermal fuse
Each service truck carries a full inventory of common replacement parts so we can perform most refrigerator repairs within the same day.

Other Residential Appliances

We Repair